Staff
Jed Castro
Asst. AD, Productions & Multimedia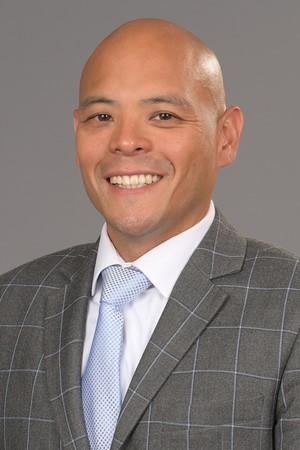 Jed Castro began his 2nd stint in the Virginia Tech Athletics Video department in 2005. A former Video Coordinator, Jed is now Senior Director for HokieVision. On a daily basis he is managing the entire HokieVision department and guiding its videoboard & website content. For 11 years before that Jed was producing content for the dept. and managing a vast array of student workers. In a former life Jed worked as a reporter/anchor for WSLS-TV in Roanoke, VA; executive producer of Virginia Tech Sports Today; director of video for Kairos - Los Angeles, and digital effects artist for the film Outsource.
A 1997 graduate of Virginia Tech with a degree in Communication Studies, Jed is currently earning a master's degree from Virginia Tech. He resides in the New River Valley, enjoys traveling, and watching sports and movies. He and his wife have visited all 50 states in the Union, and have their goals set on every continent, so if you would like to help them make it to Antarctica, please contact him directly.
Eric Frey
Senior Director, ACC Network Operations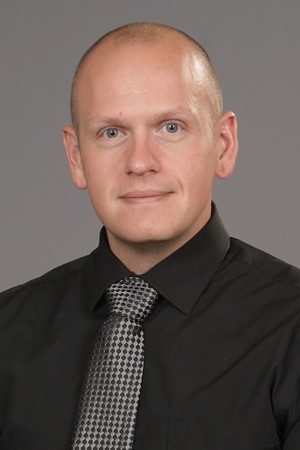 Eric is a 2007 Virginia Tech graduate and returned to Blacksburg in April of 2018. He worked as a graduate assistant for HokieVision from 2005-07. He worked at Illinois and Florida State and before moving on to Arkansas to help launch the SEC Network in the fall of 2014. Eric has returned to VT as Senior Director of ACC Network Operations, helping the athletics department prepare for the official network launch in 2019. He is a St. Louis native and resides in Christiansburg with his wife, Lisa, children Kelsey and Joshua, and dog Sammi.
Josh Bost
Director, Football Video and Technology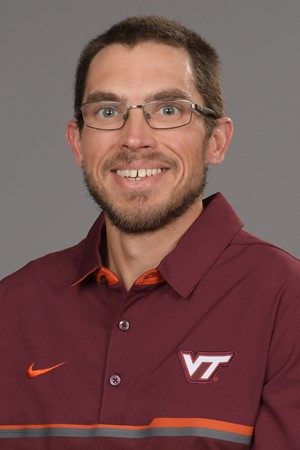 Bost comes to Virginia Tech from the University of Memphis, where he had been the video coordinator since August of 2013. He manages all facets of the video department, including budgeting, ordering, researching and maintaining equipment. He coordinates, records and edits all video from practices, games, and recruiting for each coach to review and breakdown. He also helps produce promotional videos and motivational videos along with other video-related assignments.
Prior to working at Memphis, he worked at the University of North Texas for nine years as the director of video operations. He graduated from Middle Tennessee State University, working in that office as both a student and graduate assistant before moving to North Texas.
Brian Walls
Asst. AD, Network & Broadcast Operations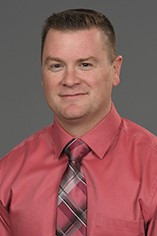 Brian Walls began his involvement with the Virginia Tech Athletics Video Office as a student intern in 2000 and became Assistant Video Coordinator upon graduating from Virginia Tech with a B.A. in Communications in 2002. He earned his M.S. in Health and Physical Education from Virginia Tech in 2006. Brian produces for Hokievision, creating and producing content for the videoboards in Lane Stadium and Cassell Coliseum, as well as for hokiesports.com. Like two of his coworkers, Brian also worked at WSLS-TV in Roanoke, VA, as a Production Assistant and in Creative Services.
A native of Blacksburg, Brian has been a Hokie fan his entire life and has missed only one home football game since 1986. In his free time, Brian enjoys riding motorcycles, playing golf (poorly), and listening to live music.
Tom Booth
Director, Football Coaches Video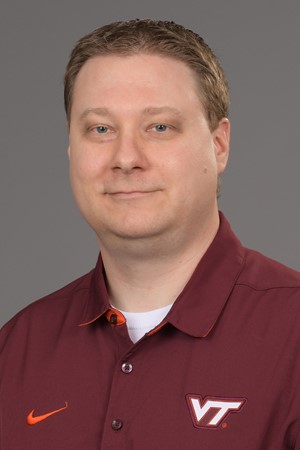 Tom came to the Athletic Video Office at Virginia Tech from WSLS-TV in Roanoke, VA where he was a news and sports videographer. He has worked in the Video Department since September 2000, as an editor for Hokievision. From 2005-2013, Tom directed the videoboard production on football gamedays. For the 2014-15 seasons he headed up the department's coaches video unit. He currently assists Josh Bost now in the same role. The summer of 2015 was spent upgrading the football department's network of computers. In addition, he coordinated the installation of six robotic cameras in the new football facility to assist in the filming of daily football practices. Up to eight students and 10 cameras are coordinated for that task. He was recently named ACC Video Coordinator of the year by his peers for the 2015 season.
Tom grew up in a Hokie family in Erwin,TN and has been an avid fan of Tech athletics since he was a child, attending Tech football games since he was 6 years old. He is a 1996 graduate of the Department of Communication at Virginia Tech. Tom and his wife reside in Christiansburg.
Daniel Sabatino
Associate Director, Creative Content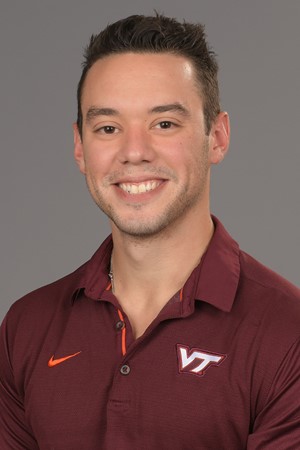 Daniel joined the HokieVision team in September 2014 and has quickly grown into a valuable team member. He directs HokiesXtra broadcasts including producing graphics for each game. Along with teammate Christopher Bullard, he co-produces the department's numerous ESPN3 telecasts. He is also active in creating content for Hokiesports.com, including the football All-Access series with Kendall Fuller and Sam Rogers.
Daniel is a 2014 Summa Cum Laude graduate of Bethany College in West Virginia where he won numerous awards for digital media and content as well as anchoring for the college news station.
He is a proud native of Follansbee, West Virginia.
Dave Knachel
Senior Director, Photography and Design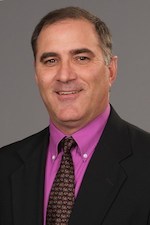 Knachel is responsible for photographic coverage of Virginia Tech's 22 intercollegiate sports, maintaining organized files and archives of images and distributing images for numerous uses both within the department and to the media and public. He also does publication and design work. As the first on-staff photographer in the athletics department, Knachel built all aspects of the office from the ground up. Making the change from film to digital ahead of when many organizations did, and developing a well-organized system for creating, editing, archiving and distributing images was instrumental in helping Virginia Tech athletics adjust and adapt in an ever-changing multi-media society.
Knachel was born in Austin, Texas, and as the son of an officer in the U.S. Navy and an elementary school teacher, he also lived in Georgia, San Diego, Boston, the Philippines, Ohio, Pennsylvania and Fairfax, Virginia, before heading south to Blacksburg in 1981 to attend Virginia Tech. Still an avid traveler, he has been to all 50 states and visited 23 countries.Knachel currently resides in Christiansburg, Virginia, with his wife, Kelly, who works in the Technology Office for Montgomery County Public Schools, and their children Seth and Macie.
Sam Jones
Chief Engineer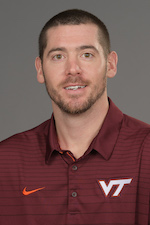 Blacksburg native Sam Jones is a 2016 Virginia Tech alum who worked for HokieVision as an undergraduate and graduate assistant 2013-17. He returned home recently as the chief broadcast engineer after spending time at the University of Arkansas as an engineer for the Razorback Sports and SEC Networks. He is tasked with making sure HokieVision's new $10 million studios are ESPN compliant while also maintaining the current facility in the Merryman Center.
Jacob Culley
Associate Director, Engineering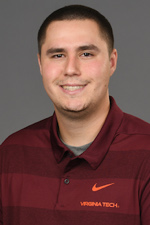 After working three years as a student production assistant for HokieVision, Jacob joined the staff in 2020 as an engineer, mainly tasked with the set up/maintenance of equipment in all venues needed for ACC Network broadcasts.
He grew up a Hokie from Fredericksburg, Virginia having three sisters who also attended Virginia Tech.
Matt Jones
Coordinator, Big Screens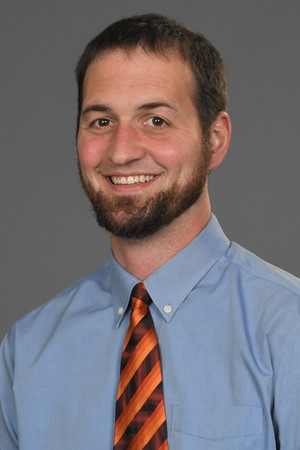 Matt is a Roanoke, VA, native who joined the HokieVision team in 2015. Matt has been involved with audio-visual technology in church settings for 8+ years, and has done freelance work for nonprofits, local businesses, and community development projects. As a Media Specialist, Matt contributes to graphics, camera work, editing, and other aspects of video streaming through HokiesXtra and ESPN3, and supports the day-to-day operations of HokieVision. In his spare time, he enjoys mountain biking and hanging out in the outdoors with his wife Jaime,daughter Sydney and their dog Izzy.
Heidi Klockenbrink
Coordinator, Big Screens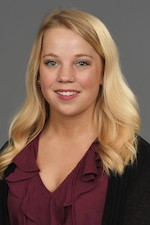 Heidi joins the HokieVision team after working as a campus recruiter and marketing lead for a technology consulting firm in Washington, D.C. She is a 2016 graduate from the University of Virginia, where she studied Art Business and Marketing, and completed a minor in Studio Art, concentrating in Cinematography and Digital Media. Although she graduated as a Cavalier, Heidi was born and raised in Roanoke, VA, and has always considered herself a Hokie at heart. While in school, Heidi was a "Miller Arts Scholar" for drama and creative media, and interned at an on-campus innovative technology studio. Additionally, she has interned with the San Diego Film Festival as the production coordinator, and with the Jefferson Music Lab in her hometown as an audio engineer and music business intern. When she's not working, Heidi enjoys binge watching TV series that she's already seen multiple times, and giving her mom's dog haircuts without permission.
Daniel Gibbons
Associate Director, ACC Network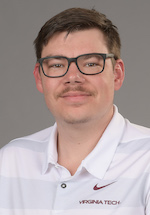 Daniel comes to HokieVision from Mercer University where he was a jack of all trades as Director of Video and Broadcasting. He was in charge of producing all the student run productions on ESPN3 for the entire athletic dept. He was also responsible for producing all of the social media content for football, MBB, lacrosse, soccer and baseball. He has three years experience working with the SEC Network while working as an Asst. Producer at the University of Kentucky.
Daniel will mainly be a Producer for all of HokieVision's broadcasts. He will be responsible for creating all the in-game features and the talent talking points for every home event. He is a proud 2014 graduate of Asbury University in Kentucky.
Chris Dawson
Associate Director, Creative Content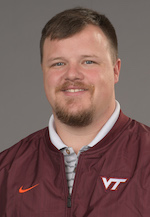 Chris Dawson joined the Hokievision staff in April 2019 as the Associate Director, Creative Content. He will be the right hand man for Daniel Sabatino in creating content that tells the stories of Hokie athletics thru social media, videoboards and the newly created ACC Network.
Prior to Virginia Tech, Dawson held the role of Assistant Director of Ideation Video, for Georgia Tech Athletics. He lead the visual branding for Georgia Tech Athletics across social media, in-venue content, and RamblinWreck.com. Dawson built all of the videoboard motion graphics across eight venues to match the new branding standards. He also created trailers, intro videos, motion graphics content, highlight packages and recap videos for all sports. Additionally, he produced multiple short form video packages for Adidas, ESPN, ACC, Raycom Sports.
"Creek" also previously served as the Coordinator of New Media at Miami University from 2016-17. Dawson managed and created content for social media, in-venue presentation, ESPN3, CBS Sports and use on MiamiRedHawks.com. He and his wife, Bryce, reside in Christiansburg, VA.
Amanda Rutledge
Coordinator, ACC Network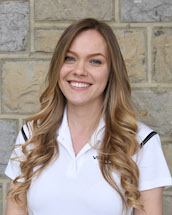 Amanda joined the HokieVision team in August of 2018 after working for two years as a Graduate Assistant for the department. She spent her undergraduate years in Blacksburg as well majoring in Multimedia Journalism. A native of Ashburn, VA she was born and raised a Hokie and never questioned the fact that maroon and orange DO go together. In her spare time, she enjoys curling up with a good book and playing with her rescue pup Ella.
Alex Balog
Coordinator, ACC Network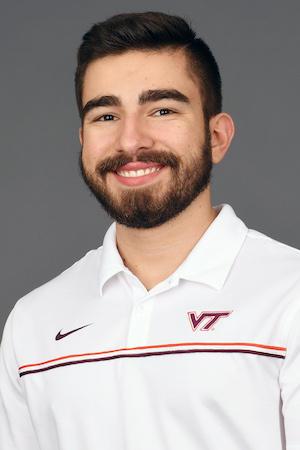 Alex joined HokieVision in June of 2020 after graduating from West Virginia University with a degree in Journalism and minors in Sports Communications and Strategic Social Media. While at WVU he assisted with the athletic broadcasts and videoboard shows as a replay operator, camera operator, director and technical director. The Cleveland, Ohio native will be assisting HokieVision with ACCN broadcasts primarily in the replay room. Outside of work, Alex can be found hiking, lifting or enjoying his vinyl record collection.
Jordan Long
Content Editor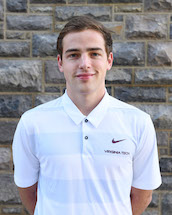 Jordan joined HokieVision as an undergraduate student production assistant and student editor in 2015. Upon earning his B.A. in Public Relations and graduating in 2017, Jordan continued at HokieVision as a production assistant and editor before being hired as a content editor in the Fall of 2018. He films athletic events, creates videos, and assists with broadcasts.
Jordan grew up in Harrisonburg, Virginia where he was surrounded by a Hokie family. Attending football games since he was four years old, it was always Jordan's dream to graduate from Virginia Tech and work in sports. Outside of HokieVision, Jordan enjoys playing sports, watching games, and spending time with friends and family.
Maddy McVey
Coordinator, Big Screens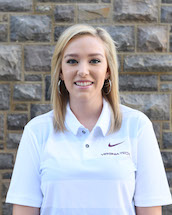 Maddy began working in HokieVision as a Production Assistant in 2015 and then as a Student Editor beginning in 2017. She is a 2018 graduate of Virginia Tech with a B.A. in Multimedia Journalism. During her time as a student, she was also involved with Virginia Tech Television as a sports reporter, editor and videographer, Chi Omega Fraternity as social media chair, and various other community service opportunities on campus. Maddy had the opportunity to join the HokieVision staff as a Content Editor shortly after graduation in 2018, where she edits content and assists with broadcasts.
A native of Richlands, Virginia, Maddy was born and raised a Virginia Tech fan, attending games since she was an infant. With Blacksburg being the place that sparked her love for sports, she's honored to be beginning her career with Virginia Tech Athletics. In her free time, Maddy loves traveling, experiencing new things, and making memories with her friends and family.