Athletics Video Department
The Virginia Tech Athletics Video Office is a multi-faceted unit that provides video support to all 21 sports on the Tech campus. Its roots are based in providing practice and game video to the football coaches and players. Since then, the video department has grown into one of the nation's best, boasting 15 full time workers and 12 scholarship students.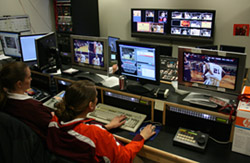 Those 27 workers gather highlights and produce highlight videos for each of Tech's sports as well as running Panasonic videoboards and Daktronic LEDs both in Lane Stadium and Cassell Coliseum. Four state of the art control rooms are used in the production of Hokievision every gameday. Hundreds of videos are also shot, edited and posted on Hokiesports.com and YouTube.
For the past 12 years the department has undertaken the task of streaming Olympic sports over the internet, via ESPN3.
Over 100 events a year are available to Hokie fans across the globe for free. The dept. also produces dozens of events for ESPN3 annually. Currently the staff is celebrating the launch of the ACC network as a linear channel as of August 22nd, 2019. HokieVision's footprint has also doubled with the addition of 2 new control rooms in Lane Stadium's south end zone. Videoboards have also been recently erected at Thompson Field and English Field and utilized to enhance the fan's gameday experiences.
For a closer look at Hokievision click here.
For a closer look at the Football programs use of video click here.